The NEMA Board of Management is composed of the following:
The Chairman
The Principal Secretary of the Ministry for the time being responsible for matters relating to the Authority of an officer of the Ministry designated in writing by the Principal Secretary.
Six members, not being public officers, appointed by the Cabinet Secretary, Ministry of Environment & Natural Resources.
The Principal Secretary in charge of finance or his representative.
The Attorney General or his representative.
The Director General who is the Secretary of the Board.
The current board of management is as follows: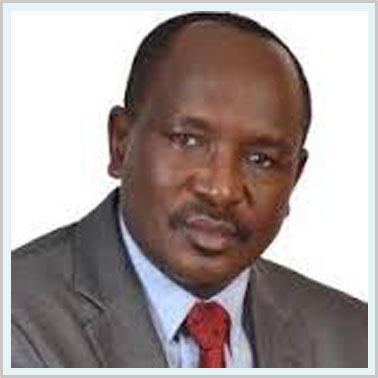 Mr. John Konchellah -NEMA Board Chairman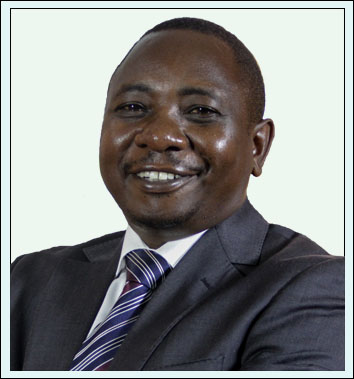 Prof. Geoffrey Wahungu - NEMA Director General
Prof. Geoffrey Wahungu is the Director General of National Environment Management Authority. Prof. Wahungu holds a Bachelor of Science and a Master's of Science in Wildlife Management from Moi University. He has a PhD in Ecology from the Griffith University, Australia. Prof. Wahungu has published widely and is a Board member and reviewer in various Environmental Journals.
Prof. Wahungu has over fifteen years' experience in research and monitoring, wildlife and community conservation and enterprise development in Eastern Africa. He also has a wealth of experience as lead consultant in regional and national ecological, social and Environmental Impact Assessments.
Prior to joining NEMA, Prof Wahungu was the Dean of Natural Resources and Environmental Studies at Karatina University College, a constituent college of Moi university.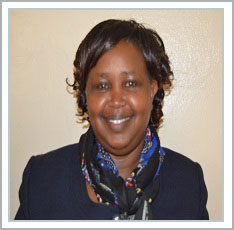 Ms. Agnes Yobterik
Ms. Agnes Yobterik is the Alternate member of the Principal Secretary Environment and Natural Resources. She holds a B.Sc. in Forestry from Moi University, M.Sc. in Forestry from University of Toronto, BA in Development Studies from Kimmage DSC/MSTCDC Arusha and undergoing a PhD at Moi University (Chepkoilel University College)
She is currently working with the Ministry of Environment, Water and Natural Resources as the Director of Programs, Projects and Strategic Initiatives within the Directorate of Environment.
She participated as a member of the National Task Force for the Vision and Strategy Development for Lake Victoria and its Catchment, a document that formed the basis for the formation of the Lake Victoria Basin Commission, Worked with Lake Victoria Environmental Management Project (LVEMP), which was a World Bank GEF/IDA funded project under the Ministry of Environment and Natural Resources as Community Participation Officer in the project.
She has also worked with Action Aid Kenya as the Programme Manager for their Kapsokwony Development Programme in Mt. Elgon District.
She worked as Assistant Research Officer with Kenya Forestry Research as well as at the National Agro forestry Research Centre, Maseno as a member of the Nutrient Management programme. She is the Founder member of the Kenya Professional Association for Women in Agriculture and Environment (KEPAWAE) whose main focus is the rural Kenya farmer with particular emphasis on the women farmer.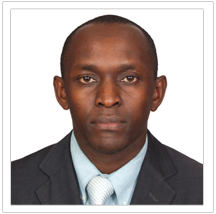 Mr. Alex Mbuvi
Mr. Alex Mbuvi is a Senior Principal State Counsel in the Legal Advisory Division at the Office of the Attorney General and Department of Justice.
He holds Bachelor of Social Laws, Bachelor of Laws degrees and a post graduate Diploma in Law.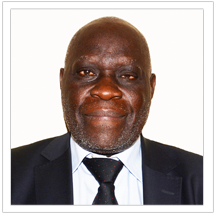 Prof.Barnabas Njiru Mitaru
Barnabas Njiru Mitaru is a professor of Animal Production. He holds a Ph.D in animal nutrition, University of Saskatchewan, 1982, MSc. in Animal production, University of Nairobi, 1979 and BSC in agriculture, University of Nairobi, 1974.
He currently works as a professor of animal production at the University of Nairobi having previously worked as an associate professor of animal production at the same university. He has also worked as an Adjunct Professor at McGill University, Canada as well as a senior lecturer of animal production at Nairobi University among others.
His academic and research experience runs through several years of working with different organizations. These research activities have led to enhanced development activities especially in drylands. In particular, Prof Mitaru has advanced interest in research in sorghum and millet and feed in the Eastern and Central Africa.
Prof. Mitaru has also held various professional responsibilities among them as vice-president at the World Association of Animal Production between 2000 and 2008.
Being appointed as a board member at NEMA brings in a vast knowledge in management having previously served as a board member at Embu Water and Sanitation Company Ltd and Chairman, Gachoka Constituency Development Fund (CDF) committee.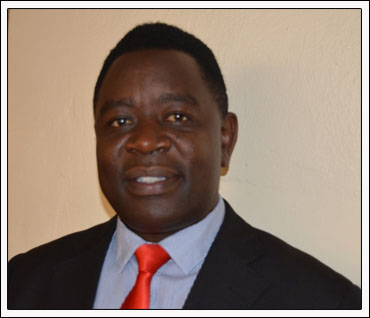 Mr. Charles Lukania Oluchina
Mr. Charles Lukania Oluchina is the Director of Field Programs, Africa Region at The Nature Conservancy. He drives The Nature Conservancy's field conservation efforts in seven African countries (Kenya, Tanzania, Zambia, Namibia, Gabon, Seychelles and Mozambique).
Charles started with the TNC Africa Region in early 2012 and brings more than 15 years of experience in the development and management of natural resources and rural livelihoods programs including professional stints with USAID/Kenya, Pact Inc., and Kenya's Civil Service.
He is a leading specialist in natural resources management policy design, rangeland economics, water resources management and land tenure and property rights programs. Additionally, Charles has demonstrated capabilities in financial management, organizational development, strategic communication, research and planning. In addition to his MBA in Entrepreneurship and Bachelors of Science, Charles has received training in climatology, peace-building and global development policy.
Ms. Caroline Wakesho Sonje
Caroline Wakesho Sonje holds a masters degree in Environmental Planning & Management from the University of Nairobi and a Bachelors degree in Environmental Studies (Sciences) from Kenyatta University. She is a certificate holder in French from Alliance Francais Nairobi and is currently pursuing her Diploma in the same course.
Caroline has over 8 years' experience in Banking and Environmental sector and has a keen interest in Sustainable Development issues. She has worked for Nature Kenya at the highly funded unique Coastal Arabuko Sokoke Forest on the project of Enhanced Sustainability through improved natural resource management by and for stakeholders.
Caroline currently works for KCB as the Sustainability Manager in charge of the Environmental, Social and Economic issues. She was instrumental in overseeing the Bank's Sustainability Reporting in line with GRI (Global Reporting Initiative); designing & implementation of the KCB Group Sustainability management strategy and programme; implementing, monitoring & evaluation of the KCB Green Agenda (the Bank's environmental blue print which focuses on safeguarding the environment by being sensitive in operations in regards to greenhouse gas emissions and waste management); partnering with environmental management agencies and other stakeholders to implement protective measures for safeguarding the environment.
She is a member of Arocha Kenya and Nature Kenya, both of which are environmental conservation organizations. In April 2015 Caroline was appointed by His Excellency the President of the Republic of Kenya to serve in the National Environment Management Authority (NEMA) Board.
Dr. Daniel Tuitoek
Dr.Daniel Tuitoek is a senior lecturer at the Department of civil Engineering, Egerton University. He holds a Ph.D in water resources engineering from the University of Alberta, Canada. BSc/MSc Water and Irrigation, Moscow Hydrotechnical institute of Engineering with specialization in irrigation engineering, pipeline and pump design and small dams engineering.
Dr. Tuitoek was appointed to the NEMA board of management on 17th April, 2015 by the president. Previously, he served as a director, in the directorate of institutional advancement, responsible for resource mobilization, Alumni Affairs, Income Generating units and investments and communication and marketing at Egerton University. He has also served at an acting position as the Vice-Chancellor, Kabarak University as well as deputy vice-chancellor at the same institution.
He has vast experience having worked at various organizations in different capacities. He is a member of various committees at Egerton University such as the University's Senate, Faculty board, budget committee and Chairman in various capacities at the institution.
His experience in working with various institutions at different capacities will be an added value to the NEMA board of management.
Mr. Erastus Wahome
Mr.Erastus Wahome is the Alternate member of the Principal Secretary, National Treasury. He is an economist and holds a Masters and Post graduate Degrees in Economics from the Monash University, Melbourne, Australia and a Bachelor of Arts in Economics degree from the University of Nairobi.
He has extensive knowledge in Government Planning and Budgetary Cycle. He has over 10 years working experience with the Government and inter-governmental institutions in coordinating policy formulation and negotiations at regional and national level. He also has over 10 years been involvement in negotiations through analysing policy documents, research and studies.

Mr. Wahome has immense experience in designing and implementing regional cooperation and integration projects programmes.
As an expert on regional integration issues and climate change, Mr Wahome has also served as an advisor to the Secretariat of COMESA and EAC, IGAD and IOC under the auspices of the Inter-Regional Coordinating Committee (IRCC) between 2006 to 2009. is the Alternate member of the Principal Secretary, National Treasury. He is an economist and holds a Masters and Post graduate Degrees in Economics from the Monash University, Melbourne, Australia and a Bachelor of Arts in Economics degree from the University of Nairobi.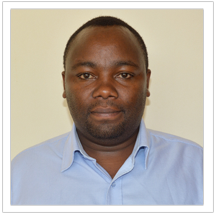 Mr. Patrick Ngatia
Mr. Patrick Ngatia was born in Nyeri, Central Kenya in 1976. He attended Tetu Boys Primary Shool, Kiambu High School and University of Nairobi for his formal education.
Mr Ngatia has studied Bachelor of Science in Botany and Zoology and Master of Arts in Environmental Planning and Management, both at the University of Nairobi. He has a certificate in leadership studies from Friedrich Ebert Foundation (FES) of Germany and is an Associate of the Chartered Institute of Arbitrators.
Mr Ngatia works in the Presidents Private office at State House as Director of Liaison.
Dr. Susan Mwamlole
Dr. Mwamlole joined the NEMA Board of management in 2012. She holds a Masters degree in Dental Public Health from University of London Eastman College, Diploma in Dental Public Health from Royal College of Surgeons (London) and Bachelor of Dental Surgery from University of Nairobi.
She was the principal researcher in the evaluation of the National Dental Health Plan Botswana that involved a sample size of 8,800 subjects which included teachers, nurses, family health welfare educators, pupils and adults.
Dr. Mwamlole has vast experience in public administration, management and public health having worked at senior levels in the Public Sector both locally and abroad.