President Uhuru Kenyatta launched the national tree planting drive in Nairobi Moi Forces Academy on 12th May 2018. The event was attended by Deputy President William Ruto, First Lady Margaret Kenyatta, Governor of Nairobi County, Mike Sonko various Cabinet Secretaries and Permanent Secretaries and other government officials.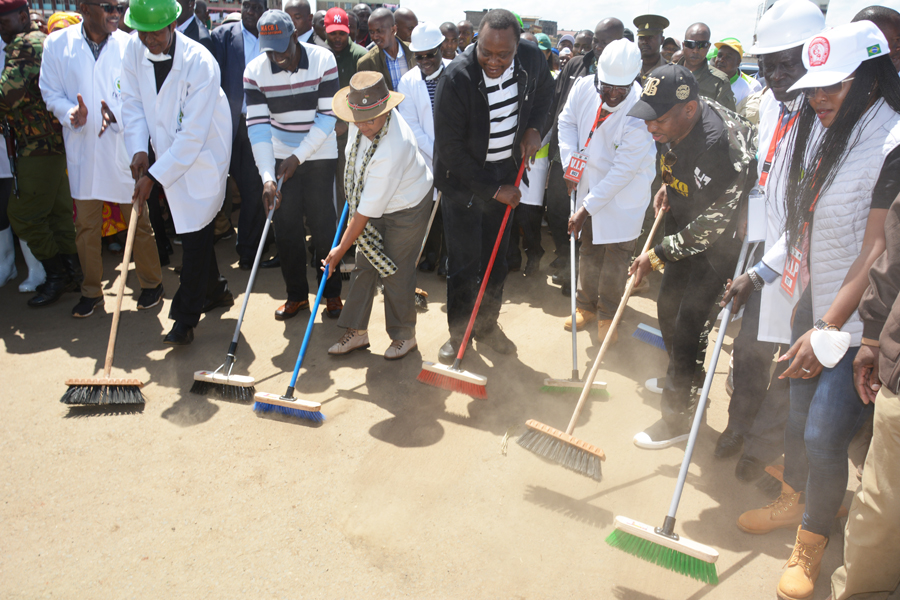 President Uhuru Kenyatta, First Lady Margaret Kenyatta and Deputy President William Ruto, Nairobi Governor, Mike Sonko, CS' among other government officials lead a cleanup exercise along Juja Road in Nairobi.
The President also launched a campaign to clean up Nairobi City at the Juja, Outering road roundabout that was organized by NEMA and Nairobi County. The President regretted that the city was falling under the weight of garbage and reckless dumping of chemicals and other hazardous industrial waste on roads and rivers. He went ahead to demand the Governor of Nairobi County, Mike Sonko to ensure that all the sub-counties in Nairobi are cleaned up.
NEMA also mounted a successful exhibition where the Authority had a rare opportunity to explain to the President and his deputy the mandate of NEMA and some of its recent undertakings such as plastic bags ban implementation.
During the event, the president announced the establishment of Presidential Environment Awards Scheme that will go towards recognizing individual's contributions in the management and conservation of the environment.
The government plans to plant at least 1.8 billion trees by 2022. The tree planting drive was replicated in 47 counties and targets to boost the country's forest cover by 10 percent by 2022.
This year's theme is, 'Panda Miti, Penda Kenya' that saw Kenyans mobilized from all over the country to plant trees.
President Uhuru Kenyatta, First Lady Margaret Kenyatta and Deputy President William Ruto when they visited NEMA booth