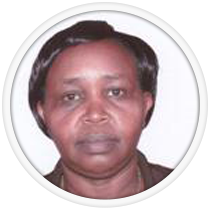 Ms. Agnes Yobterik is the Alternate member of the Principal Secretary Environment and Natural Resources. She holds a B.Sc. in Forestry from Moi University, M.Sc. in Forestry from University of Toronto, BA in Development Studies from Kimmage DSC/MSTCDC Arusha and undergoing a PhD at Moi University (Chepkoilel University College)
She is currently working with the Ministry of Environment, Water and Natural Resources as the Director of Programs, Projects and Strategic Initiatives within the Directorate of Environment.
She participated as a member of the National Task Force for the Vision and Strategy Development for Lake Victoria and its Catchment, a document that formed the basis for the formation of the Lake Victoria Basin Commission,
Worked with Lake Victoria Environmental Management Project (LVEMP), which was a World Bank GEF/IDA funded project under the Ministry of Environment and Natural Resources as Community Participation Officer in the project
She has also worked with Action Aid Kenya as the Programme Manager for their Kapsokwony Development Programme in Mt. Elgon District.
She worked as Assistant Research Officer with Kenya Forestry Research as well as at the National Agro forestry Research Centre, Maseno as a member of the Nutrient Management programme.
She is the Founder member of the Kenya Professional Association for Women in Agriculture and Environment (KEPAWAE) whose main focus is the rural Kenya farmer with particular emphasis on the women farmer.