NEMA has been implementing the global Adaptation Fund, for the Integrated Programme to build Resilience to Climate change and Adaptive Capacity of Vulnerable Communities in Kenya. The program is undertaken in 14 selected counties in Kenya.
The Adaptation Fund is a finance mechanism provided for under Kyoto protocol of the United Nations Framework Convention on Climate Change (UNFCCC) of which Kenya is a signatory.
The programme is designed to respond to effects of Climate Change and covers; water management, food security, agro forestry, coastal and mangrove ecosystems and disaster risk reduction. This aims at developing and implementing integrated adaptive mechanisms to increase community livelihood resilience to climate change in a number of ways.
From L: NEMA Board Member Teresia Mbaika, Director CDA Susan Mulewa and NEMA Board MemberFrom L: NEMA Board Member Teresia Mbaika, Director CDA Susan Mulewa and NEMA Board Member Augustihno Neto planting a Mangrove seedling at Ganzi in Kwale County
One of the Executing Entities for the programme is Coast Development Authority (CDA). CDA has been able to achieve the following based on the funding from NEMA's adaptation fund; A 12,000 Cubic Meter water pan at Midoina in Kilifi Sub-County has been completed and in use, 171,045 Mangrove seedlings have been planted for rehabilitation of Mangrove forests in Kwale County, Coral reef rehabilitation and restoration in Wasini is complete (27 natural transfers of corals and 173 artificial transfers of corals) and assessment of impacts of sea walls complete and development of National Coral Reef Restoration Protocol.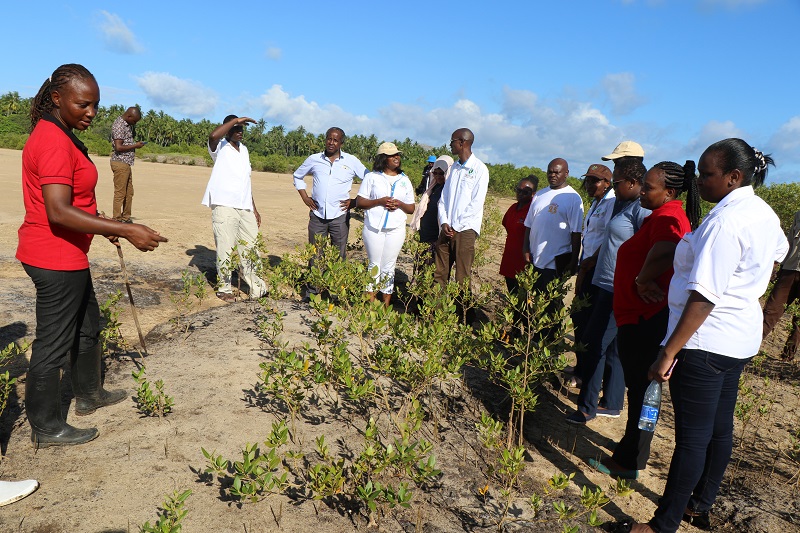 NEMA, CDA and Community of Ganzi visiting some of the Mangroves sites
To assess the progress of the project, NEMA Board of management visited the project sites on 6th and 7th November 2019 where over 2,000 mangroves were planted at Ganzi with the local communities and CDA. The Board also visited a coral reef rehabilitation site in Wasini Island.
Wasini Beach Management Unit (BMU) is a group of youth and women who realized the need to artificially rehabilitate the degraded coral reefs and therefore sought the financial assistance of CDA. NEMA approved the proposal by CDA to finance the project from the adaptation fund. The rehabilitated coral reefs have seen increased number of fish in the Section of the ocean as the degraded coral reefs have been restored.
Climate change and related human activities have contributed to degradation of coral reefs. Human activities such as dumping of waste, poor fishing methods, cutting of Mangroves and sedimentation. Generally, healthy coral reefs provide shelter for various species of aquatic animals.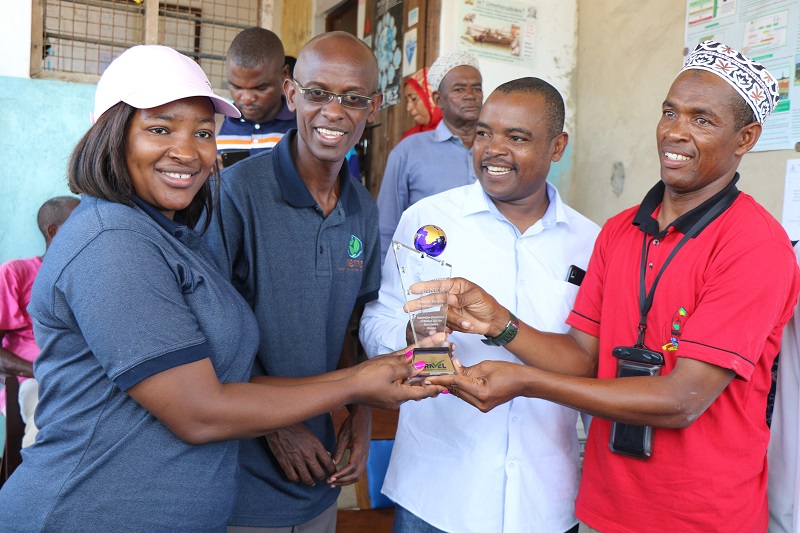 From L: NEMA Board Members Teresia Mbaika, Augustihno Neto,From L: NEMA Board Members Teresia Mbaika, Augustihno Neto,CDA Board Member, Mshenga Lurga and Chairman, BMU MohammedAhmed holding a trophy awarded to BMU for rehabilitating coral reefs
According to BMU Chairman, Mohammed Ahmed, coral reef restoration has benefited fishermen as the number of fish has increased as the corals act as the breeding ground for fish. This has also increased tourism activities in the region raising livelihoods for the communities.
NEMA Board Chairman Legal, Strategy and Resource mobilisation Committee, Augustihno Neto who the led the team, said that adaptation fund has enabled NEMA to fund activities such as coral reef restoration through CDA. This has acted as a mitigation to the vagaries of climate change in the ocean. "NEMA will continue to mobilise climate financing globally and locally to assist communities with viable project to mitigate climate change," Neto said.
NEMA's NIE Coordinator, Ms. Wangare Kirumba assured the locals that the Authority will continue to play its part to ensure available resources through adaptation and Green Climate Fund reach the beneficiaries to help them deal with effects of climate change and hence improve their live hoods.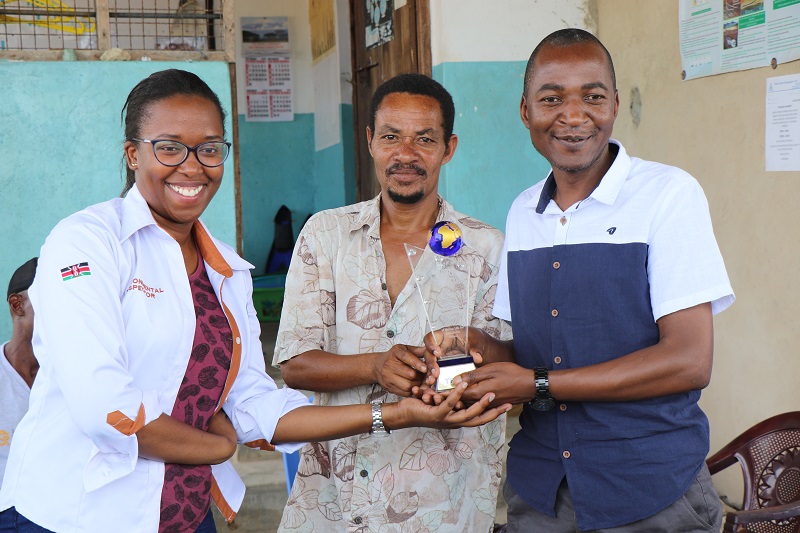 NEMA's Anne Gateru, Ahmed Yusuf and John Wafula during the visit to Wasini BMU office