The National Environment Management Authority (NEMA) is the National Implementing Entity (NIE) for Kenya with the Adaptation Fund (AF) Board. The AF Board through its Climate Finance Readiness Programme made available funds South-South Cooperation grants in order to increase peer to peer support among accredited NIEs and those seeking accreditation. The South South Cooperation grants are aimed at strengthening the capacity of countries seeking accreditation with the AF to undertake activities and to prepare and submit relevant documents that lead to accreditation with the Fund.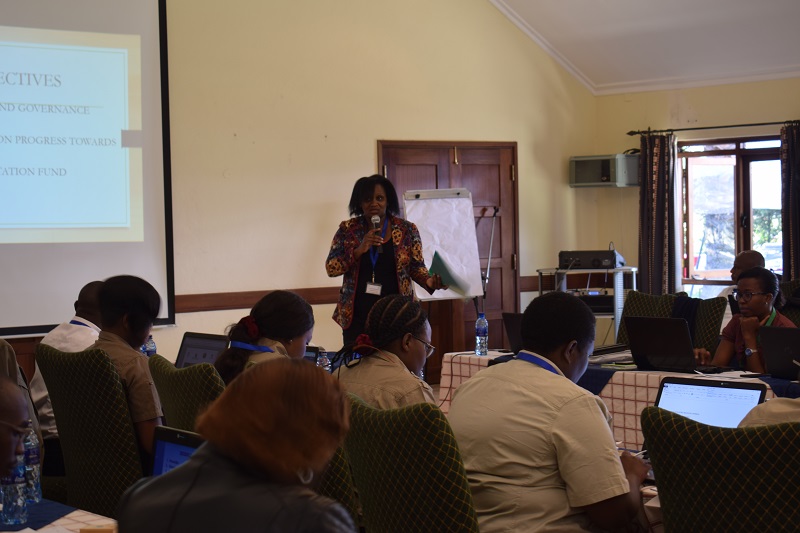 NIE Coordinator, Ms. Wangare Kirumba opening the workshop in Naivasha Simba Lodge
NEMA submitted a proposal to access the South South grants to support accreditation of Malawi and Zimbabwe national implementing entities in March 2016. NEMA has received grants to support the Malawi Environment Trust Fund (MEET) in Malawi. MEET is the organization in Malawi nominated for Accreditation by the government of Malawi. NEMA is also supporting Environmental Management Agency (EMA) of Zimbabwe, as the nominated institution pursuing accreditation on behalf of Government of Zimbabwe. NEMA's role is to assist these two organizations (MEET in Malawi, EMA in Zimbabwe) identify relevant accreditation application materials for submission to AF.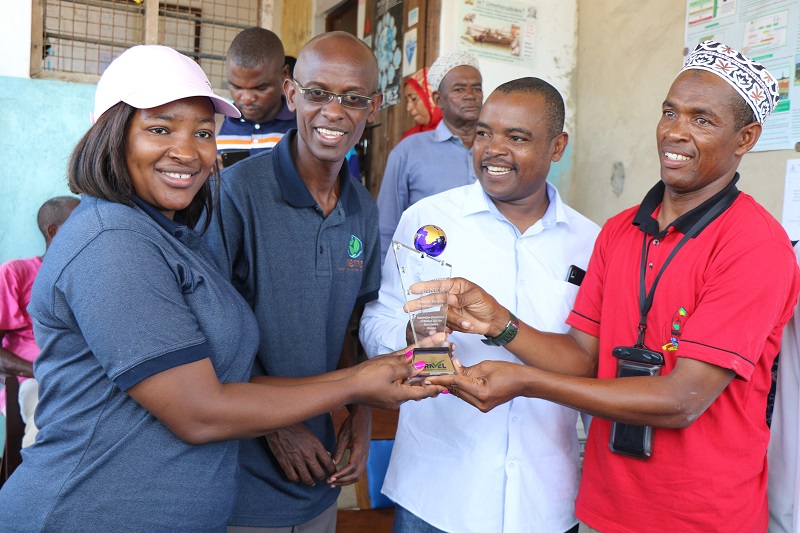 The MEET, EMA and NEMA teams during the South-South governance tools workshop in Naivasha
One year later, a meeting was held in Lilongwe, Malawi and Harare, Zimbabwe on 16th and 18th March 2017 respectively. This meeting established a working relationship between NEMA, Malawi Environment Trust Fund (MEET) and Zimbabwe's Environmental Management Agency (EMA). The was meeting aimed to ensure high level government interactions, between the participating countries and to secure commitment from both countries to execute the Adaptation Fund South to South grant towards achieving accreditation for EMA and MEET. An action plan on how to execute the work plan activities within the programme was agreed on.
On 27th-29th December 2017, an in-country workshop was held in Nairobi with Malawi and Zimbabwe teams. The objective of the workshop was to mentor (peer to peer support) MEET and EMA by assisting them to review their existing systems, procedures and documents with a view to seeking AF NIE accreditation, support in the identification of documents for accreditation submission and to develop an action plan for gaps that needed to be addressed. NEMA also shared its experiences, challenges and lessons learnt during its Adaptation Fund (AF) and Green Climate Fund (GCF) accreditation journey.
After the mentoring exercise, the two institutions resubmitted their documents and responded to review comments raised by AF Review panel using the skills imparted with more insight, knowledge and understanding of AF operational policies requirements and fiduciary standards. The peer to peer support was an eye opener in different ways that the institutions took home.
NEMA is hosting another in-country workshop to be held from 4th – 7th March 2019 in Kenya. The workshop's objective is assist EMA and MEET to develop governance tools in compliance with the AF requirements and standards as well as share knowledge and experiences on programme design processes for both AF and Green Climate Fund.
The almost 2 year journey is coming to an end in a successful fulfilling way. Teams from Malawi and Zimbabwe visited Kenya from 4th-7th March 2019 for a 3-day technical workshop on Adaptation Fund accreditation process.
By Sarah Muthoni | NIE/AE Desk