NEMA has shut down 12 companies for directing their untreated industrial discharge into rivers and streams within Nairobi. 24 companies have also been given improvement orders to put their houses in order before their companies are shut.
Most of the companies have been shut for not having waste water pre-treatment systems in place hence discharging raw sewage into the sewer line or into the environment.
Inspections at Giloil company
According to Water Quality Regulations 2006, companies discharging into the environment are supposed to apply for the annual Effluent Discharge Licenses (EDL) from NEMA after undertaking annual audit. Those discharging into the sewer line are supposed to apply for discharge permits from Nairobi Water and Sewerage Company if within the city or in the respective Counties.
On 15th May 2019, NEMA board of management led inspections within industrial area in Nairobi. During the inspection, Giloil was closed for lacking a proper pre-treatment system hence discharging untreated waste into the sewer line.
NEMA inspectors led by Board members
Speaking during the inspection, NEMA Board chairman, Mr. John Konchellah warned all companies discharging untreated effluent into the environment that they face closure if they don't comply. He also urged those who have been issued with improvement orders to adhere to the conditions of the orders to avert closure.
Mr. Konchellah noted that the ongoing inspections against illegal discharges do not aim to hurt businesses as the Authority understands the importance of a thriving business economy. However, he said, "Business should not be allowed to operate at the expense of the environment." He urged business operators to comply with various environmental laws.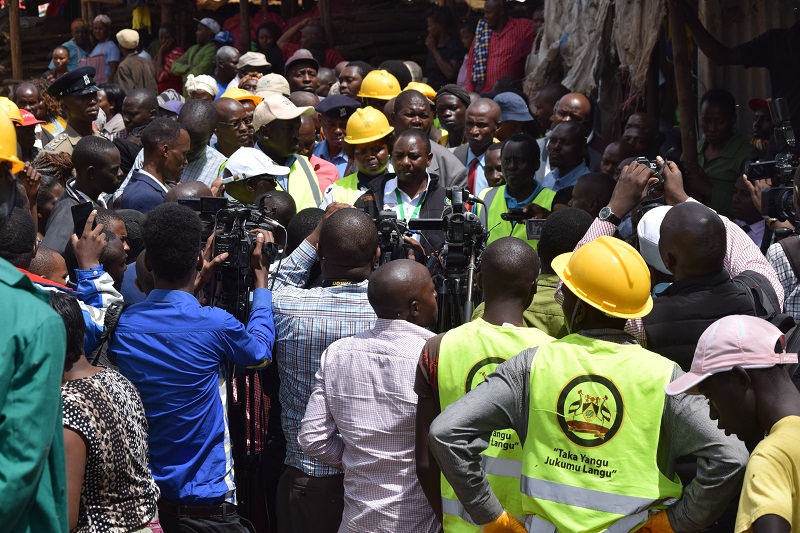 NEMA DG Prof. Geoffrey Wahungu speaking during the inspection on illegal discharges
NEMA Director General Prof. Geoffrey Wahungu urged the public to offer information to the Authority on companies discharging harmful effluent into the environment. Prof. Wahungu also attributed the cleanliness of the environment to acceptance of the plastic bags ban from 2017 as the Authority is now mainly dealing with organic waste as plastic paper waste has reduced significantly. "Imagine if we were dealing with plastic and organic waste in clean-up of Nairobi River," Prof Wahungu remarked during a meeting with Nairobi CEC Environment Vesca Kagongo at Korogocho.
Ms Kagongo praised the working relations between NEMA, Nairobi County and the entire Nairobi Regeneration Team in cleaning Nairobi County especially the concerted effort to see Nairobi River regain its lost glory.