World Wetlands Day (WWD)2017 has been commemorated 2nd February since 1971, to mark the Day the Ramsar Convention was signed in Iran. These commemorations are meant to raise public awareness and consciousness about the benefits and challenges facing wetlands.
This year, the National celebrations were held at Kipsaina Market in Trans Nzoia County.
The theme for WWD 2017 is "Wetlands for Disaster Risk Reduction" to highlight the vital roles of healthy wetlands in reducing the impacts of extreme events such as floods, droughts and cyclones on communities, and in helping to build resilience. The proposed slogan is "Our Wetlands Our Safety.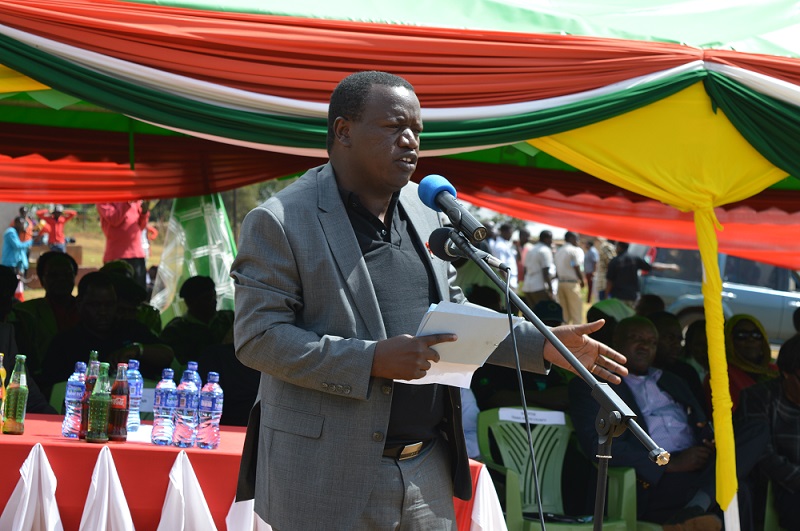 PS State Department of Environment,
Mr. Charles Sunkuli NEMA Director General Prof Geoffrey Wahungu
The celebrations were spearheaded by PS State Department of Environment, Mr. Charles Sunkuli, NEMA Board chairman, Mr. John Konchellah, NEMA DG Prof Geoffrey Wahungu and CEC Environment Nyamira County Government.
Our partners/Stakeholders involved in the preparations include;
Ministry of Environment and Natural Resources, Safaricom, Kenya Forest Service, CANCO, Wetlands International, Kenya Wildlife Service, KUNEC, KIUESA/UON, KENWEB, WCK, KLB, EAWLS, National Museums of Kenya, Nature Kenya, County Government of TransNzoia among others.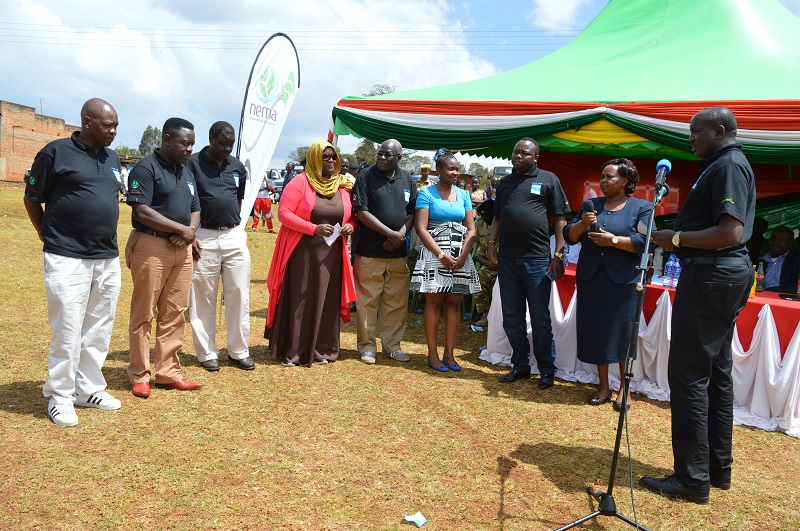 NEMA Board of management team during the World Wetlands Day celebrations
While making his remarks, the Cabinet Secretary Environment and Natural Resources, Prof Judi Wakhungu whose speech was read by the PS state department of environment stated that the role of wetlands in disaster risk reduction should never be underscored. She urged the public and stakeholders to help in conservation to sustain the ecological integrity of wetlands through conservation and proper management. She expressed her concern 64% of the world's wetlands have disappeared since 1900 and 76% of wetland species have also disappeared with the disappearance of wetland ecosystems. However, she informed the public that the ministry had put in place appropriate measures to conserve and manage wetlands and at the same time enable people to make a decent living from them.
NEMA Director General stated that NEMA encourages the mainstreaming of disaster risk reduction measures in wetland management plans and into all relevant policies, action plans and programmes by Counties and other stakeholders. He added that the Authority partakes to ensure that necessary development activities in and adjacent to wetlands are sustainable and will maintain and conserve ecosystem services including the role of wetlands in reducing impacts of disasters.
The Authority has successfully guided the development of the National Wetlands Conservation and Management and the Integrated Coastal Zone Management Policies. These policies are meant to give the country direction in managing coastal and inland wetlands. It is envisioned that implementation of these policies will enhance management of wetlands across the country and reverse wetlands degradation trends that are currently being experienced.
The NEMA board of management chairman, Mr. John Konchellah assured the public that the Authority will continue to review, develop and implement various tools and instruments as appropriate to ensure that wetlands are well managed so that the community can benefit from minimized disaster risks. Moreover, the Authority will also continue to create awareness on the importance and need to manage wetlands so as to reverse degradative activities that deplete wetlands.
Equally, the NEMA board will work to strengthen governance structures and provide harmonious working atmosphere that promotes and encourages sustainable use of wetlands from the grassroots/community to national levels and in accordance with the Constitution of Kenya 2010 and other legislative and legal frameworks.
The County government of Trans Nzoia assured the national government of their support in developing county based policies to guide on conservation and management of wetlands. They also assured their support in establishment of the County Environment Committee to ensure that the impact on the general management of environment is well maintained throughout the country.