As the national entity implementing matters related to environment, NEMA encourages structured partnerships in line with the government's public-private-partnership policy (PPP).
It is in regard that the NEMA board chairman Mr. John Konchellah hosted a team from CocaCola to discuss areas of engagement related to waste management an plastic bags ban.
The CocaCola team were led by Hamish Banks, the Vice President, Public Affairs, communications & sustainability, Eurasia & Africa, Maserame Mouyeme, the public Affairs, communications & sustainability director for Seabu. Maserame Mouyeme- Public Affairs, Communications & sustainability director for Seabu among other officials from CocaCola Kenya offices.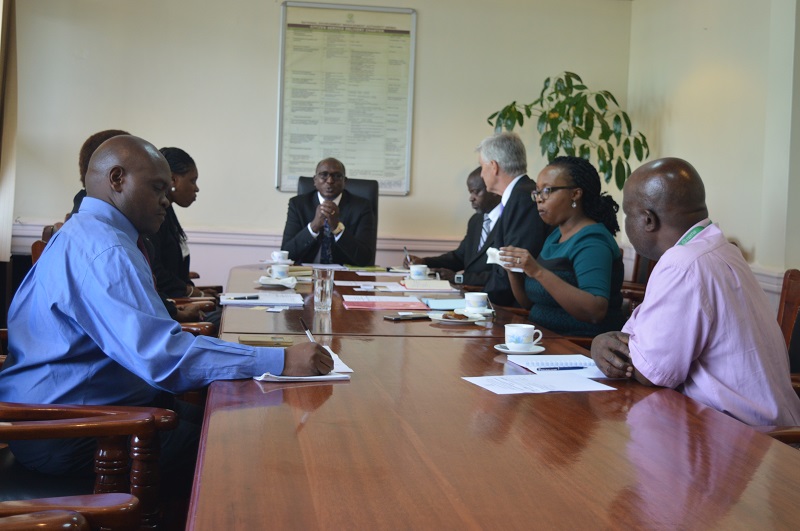 NEMA Chairman, Mr. John Konchellah (front) chairing the NEMA, CocaCola meeting at NEMA Boardroom
Some of the areas of interest in the partnership included an industry led PET recycling initiative and the adopt a river initiative that is spearhead by NEMA.
Speaking during the courtesy call, the Chairman stated that the Authority has recently been on the lime light following the ban of plastic bags. "The ban has been successful since most Kenyans have complied." He added that despite poor environmental management practices in the country being challenging, NEMA is encouraging wise use of resources through embracing green technologies and collaborating with other stakeholders to build synergies.
The chairman also noted that the CS for Environment and Natural Resources Prof. Judi Wakhungu recent efforts to prohibit people from carrying plastic bottles to the parks and forests. He remarked that this will ensure that visitors do not litter the environment as people dump them around after finishing their drinks.
He also urged every citizen to safeguard and enhance the quality of environment as well as adopting best practices to help create wealth, employment and reduce pollution to the environment.