Materi Girls harbors brilliant innovative minds but one in particular, attracted the attention of the Environment and Resources Cabinet Secretary Judi Wakhungu and NEMA Director General Prof. Geoffrey Wahungu. Hilda Gaceri Bundi came up with an innovation that caught the eyes of many. This sparked an online conversation around plastic bags alternatives.
Hilda Gaceri holding her bag made of dried banana stalk bark
As her peers across the country trooped to shops to buy alternative carrier bags, the Form Three student of Materi Girls decided to use dry banana stalk bark to make her own considering her humble background, where her mother works as her social volunteer at their local church helping people with disabilities and her father a driver.
Hilda Gaceri became the center of attention as well as ridicule when she carried her banana bag to the supermarket in Nkubu, ready to do her shopping. "I spent 30 minutes working on the bag. I went with it to Nkubu Supermarket to do my shopping and headed back to school," she said clearly proud of her idea to not only save money but also make the best use of the environment.
Hilda Gaceri together with NEMA officers and School officials during the visit at Materi Girls
Some of NEMA staff were sent on a fact finding mission to Gaceri's school to find out about her and have her interviewed about her invention. She explained how she learnt the skill from her late grandfather who taught her how to make them for use at home and so she thought she could use locally made materials at a free cost. Miss Bundi was awarded by the NEMA team with a NEMA bag and two NEMA key holders.
NEMA officials led by Salome Machua sensitized the girls during an assembly meeting in the school about the plastic bags ban; those subjected to the ban and encouraged them to come up with innovations just like miss Bundi which are eco-friendly. Ruth Mbaisi an enforcement officer at NEMA emphasized on the issue of reducing re-using and recycling as a way of conserving a healthy environment. Several media houses were on the ground to cover the whole event as it occurred and also interviewed Miss Bundi.
Materi Girls students displays NEMA Eco-Friendly bags during the visit
The Materi Girls Principal Mr. Mbae highly commended Miss Bundi's innovation terming her as a courageous young lady with a lot of potential as a young innovative girl. despite of Gaceri being innovative she also proved to be an environmentalist and a conservationist as she is a disciplinarian in the school's Wildlife and Environment Club and she is a believer that we can do without plastics. She has also spear headed a tree and flower planting campaign were she and other Wildlife and Environment Club members have grown diverse and indigenous tree and flower seedlings. Her inspiration and role model happens to be Wangari Maathai.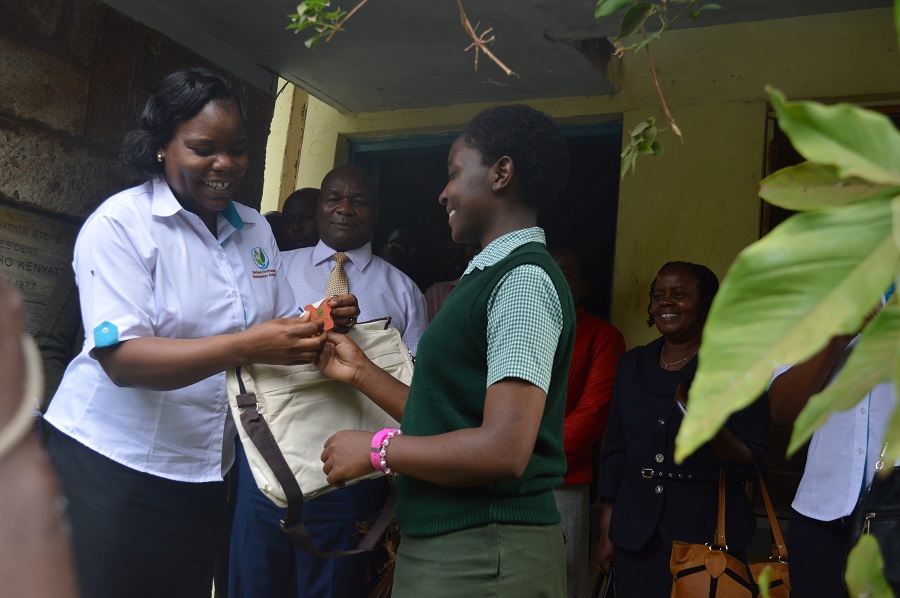 NEMA's Catherine Mbaisi gives a key ring and a handbag to Hilda Gaceri during the visit at Materi Girls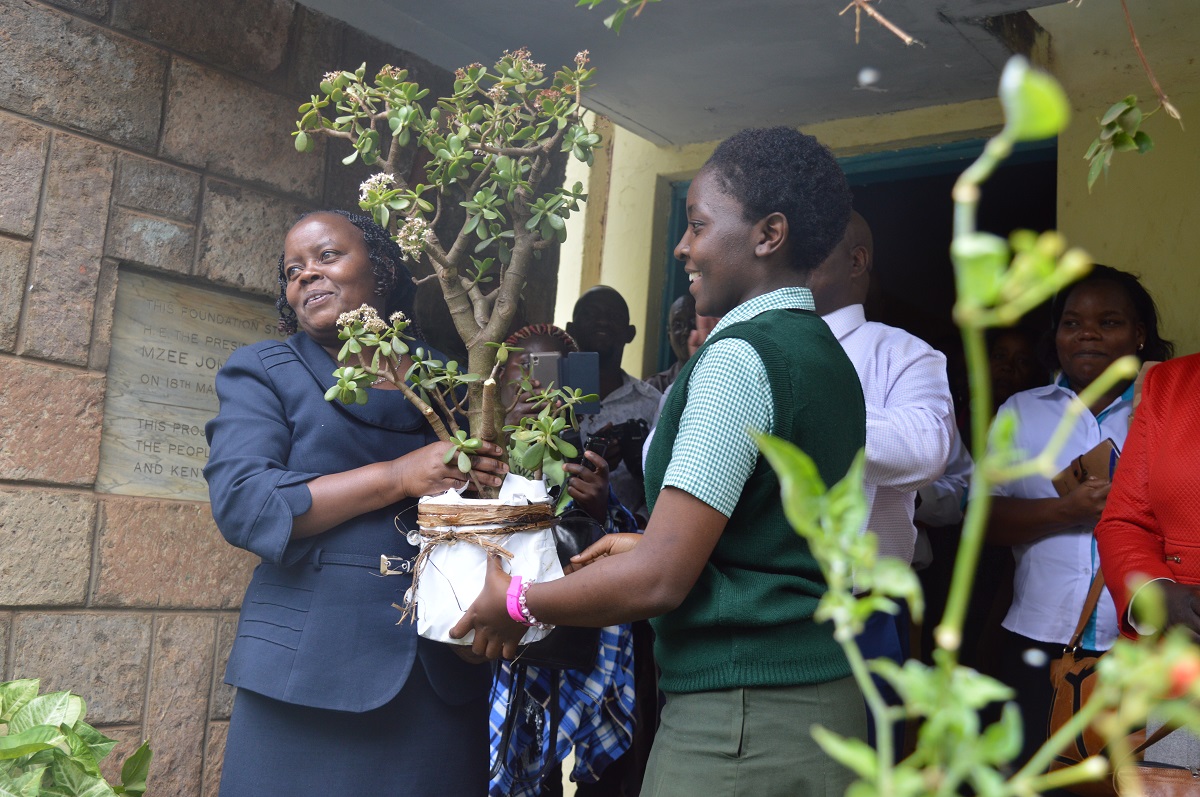 NEMA Deputy Director Enforcement, Ms Salome Machua receives a tree seedling from Hilda Gaceri during the visit