With the lapse of the 6 months grace period of the Gazette notice banning the use, manufacture, and importation of plastic carrier bags by the Cabinet Secretary Ministry of Environment and Natural Resources, Prof Judi Wakhungu, NEMA as the implementing Authority swung into action.
The Authority has a well-laid strategy on initiative the implementation of the ban where the NEMA Director General Prof. Geoffrey Wahungu flagged off a team of inspectors to all the sub counties of Nairobi. The same exercises were carried out in all counties led by the NEMA County Directors of Environment. The NEMA officers are working in conjunction with the County Government Environmental officers and the Kenyan police.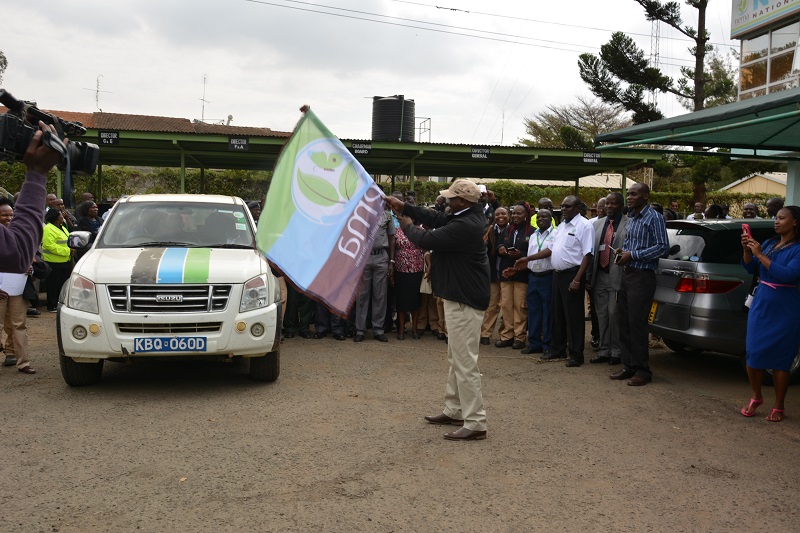 NEMA Director General Prof Geoffrey Wahungu flagging off the inspection officers and cars
The Director General himself led a team of inspectors in various places targeting supermarkets and manufacturers of plastic bags in Industrial area. The inspections began at Uchumi supermarkets located at Capital Centre along Mombasa Road where cooperation to the ban had been observed. The supermarket had adopted the environment friendly and re-usable alternatives that were used to serve their customers. This was the same in most of the supermarkets that the Authority visited.
Director General speaking to a section of the media during the inspection exercise
While addressing a section of the media, the Director General did not mince his words as he confirmed the Authority's commitment to get rid of plastic carrier bags from the environment. Prof Wahungu also affirmed that the Authority had not sanctioned arrests of civilians or inspection of private or public vehicles. He stated that the Authority is committed on urging Kenyans to change behaviors change through awareness to foster compliance with the ban without unnecessarily subjecting them to the penalties prescribed for the environmental crimes which are of not less than two million Kenya Shillings, and not more than four million Kenya shillings, or imprisonment of a term of not less than one year but not more than four years or to both such fine and imprisonment. He added that the Director General and Inspector General of Police are in constant communication and coordinating what the Authority is doing. The police is aiding the NEMA officials to access business premises for inspections.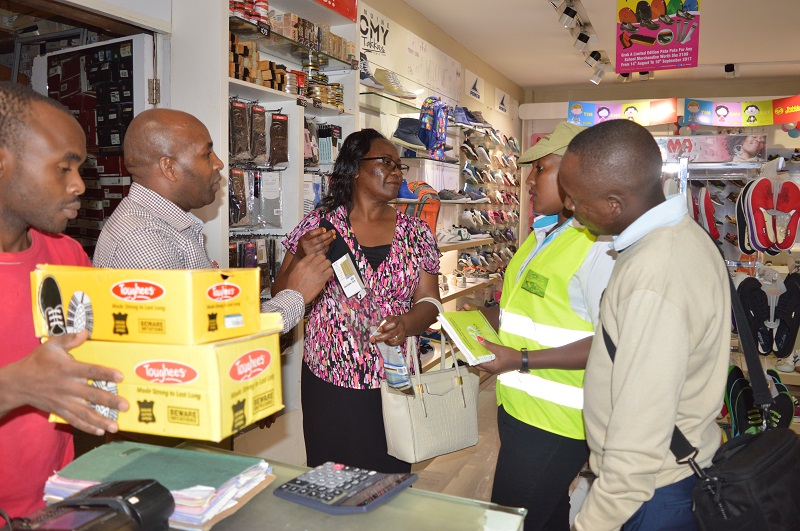 NEMA and County officers during the inspection exercise on plastic carrier bags
Apparently, the Authority appreciated the Kenyans support in behavior change and stop using plastic carrier bags. Individuals especially in supermarkets who still had stock of plastic carrier bags were required to declare their stock that such plastic bags will not be in use as they will be handed over to the recyclers. The Director General stated that the Authority is working with relevant Authorities to establish drop-off points where the public can dispose off the plastic bags in their possession for recycling.
The inspections on plastic carrier bags continues all over the country.