NEMA Acting Director General has called on the public to take of the environment and help in management of waste. "It's everyone's responsibility to ensure the environment is clean. Don't expect someone else to pick up your waste," Ag. Mamo b. Mamo told the gathering during this year's Clean-Up the World Day celebrations.
The global environmental event, commemorated every third weekend of September brought together hundreds of environmental enthusiasts to Ruai Market, Kasarani sub-county, Nairobi County, the venue for the national celebrations held under the clarion call to Combat Waste and Plastic Pollution on 21st September 2019.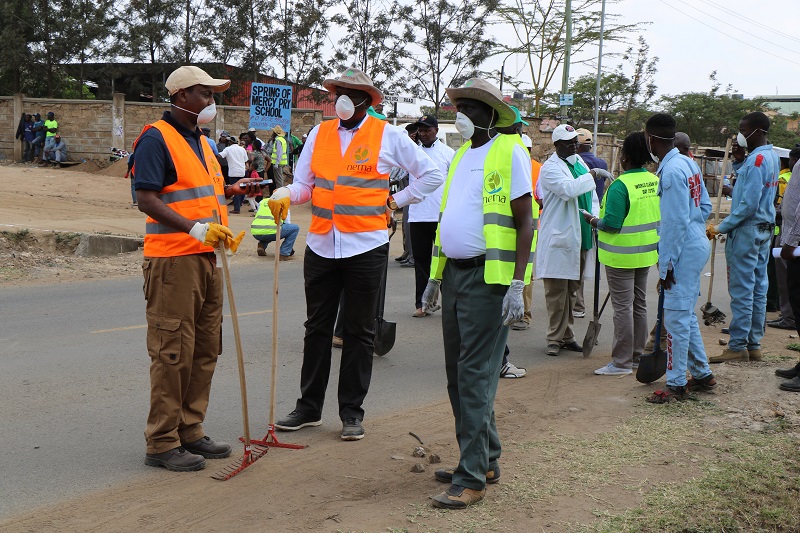 NEMA Ag. DG, Mamo B. Mamo, Chairman, John Konchellah and Board Member, Dr. Juma Ngeywa (C) participating in the Cleanup the World Day at Ruai Market, Nairobi.
Cleanup the world day helps to promote community action as the key to long-term environmental change. The campaign welcomes involvement from all nations and participating organizations ranging from individual groups working independently within their local community, to national initiatives carried out by diverse groups.
As such the Clean-up the World weekend provides a platform for collective environmental action by millions of people across the world. It also serves as a celebration of achievements attained throughout the year by diverse stakeholders. This rejuvenates public attention on global community concerns for the environment and how each individual can make a positive contribution to a cleaner and healthier environment.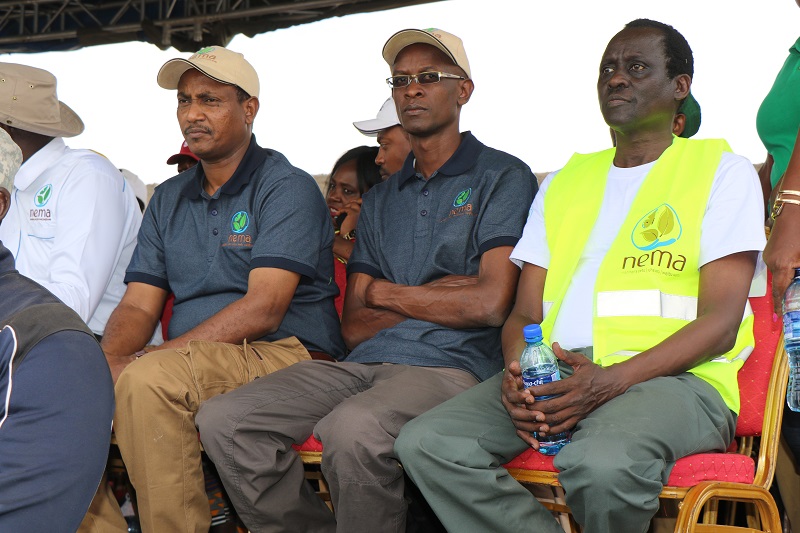 NEMA Ag. DG Mamo Boru (L) with Board members Augustinoh Neto and Dr. Juma Ngeywa during the Cleanup the world exercise at Ruai market
The chief guest was Environment and Forestry Chief Administrative Secretary Mr. Mohammed Elmi. While making his remarks on of behalf of CS Environment and Forestry, Keriako Tobiko, Mr. Elmi highlighted government's effort in ensuring the environment is clean and healthy for all. He noted that the ministry through the Nairobi Regeneration team has provided the necessary resources and support to ensure the environment is clean.
NEMA Chairman, John Konchellah urged the public and institutions to engage in developing a 7R oriented society by Reducing; Rethinking; Refusing; Recycling; Reusing; Repairing and Refilling their waste. These steps have been laid down in the National waste management strategy that the Authority has developed to guide the county governments on waste management in their jurisdictions.
Kenya is proud to be part of the 'Let's Do It' movement which spans over 158 countries and is the biggest civic movement connecting and empowering people and organizations around the world to make our planet waste free and help launch a cleaner future. "Creating awareness regarding waste generation and related issues, encouraging waste reduction and urging the public to move towards a sustainable lifestyle by rethinking of priorities to greatly reduce generation of waste and starting a conversation about sustainable production and consumption." Konchellah said.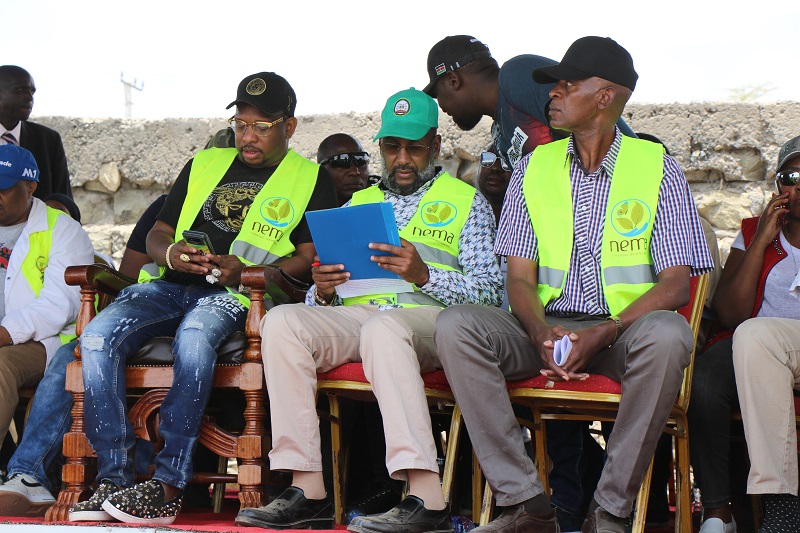 (L-R)_ Nairobi Governor, Mike Sonko, CAS Environment and Forestry, Mohammed Elmi and Secretary of Administration,(L-R)_ Nairobi Governor, Mike Sonko, CAS Environment and Forestry, Mohammed Elmi and Secretary of Administration,minitry of Environment, Joel Kitili during the cleanup the World Day at Ruai, Nairobi
"Waste is not only a challenge but, is also a largely untapped opportunity. Proper waste management presents an opportunity not only to avoid the detrimental impacts associated with waste, but also to recover resources, realize environmental, economic and social benefits and take a step on the road to a sustainable future." Ag. Director General, NEMA noted. He added that benefits of waste ensue when waste is treated as a resource that can be recovered and put to productive and profitable use.
Mr. Mamo remarked that the Authority has stepped up enforcement actions on entities found to be polluting the environment either by untreated effluent discharge or by lacking proper waste management systems.
Nairobi Governor Mike Sonko highlighted various efforts that the County Government of Nairobi had put in place to facilitate a clean environment for all. Majorly the establishment of the Ministry of Environment in His government as well as gazetting the county environment committee to take care of environmental matters. He noted that the County will continue to partner with NEMA and other public and private institutions to ensure the environment is kept clean especially in the regeneration of Nairobi River.